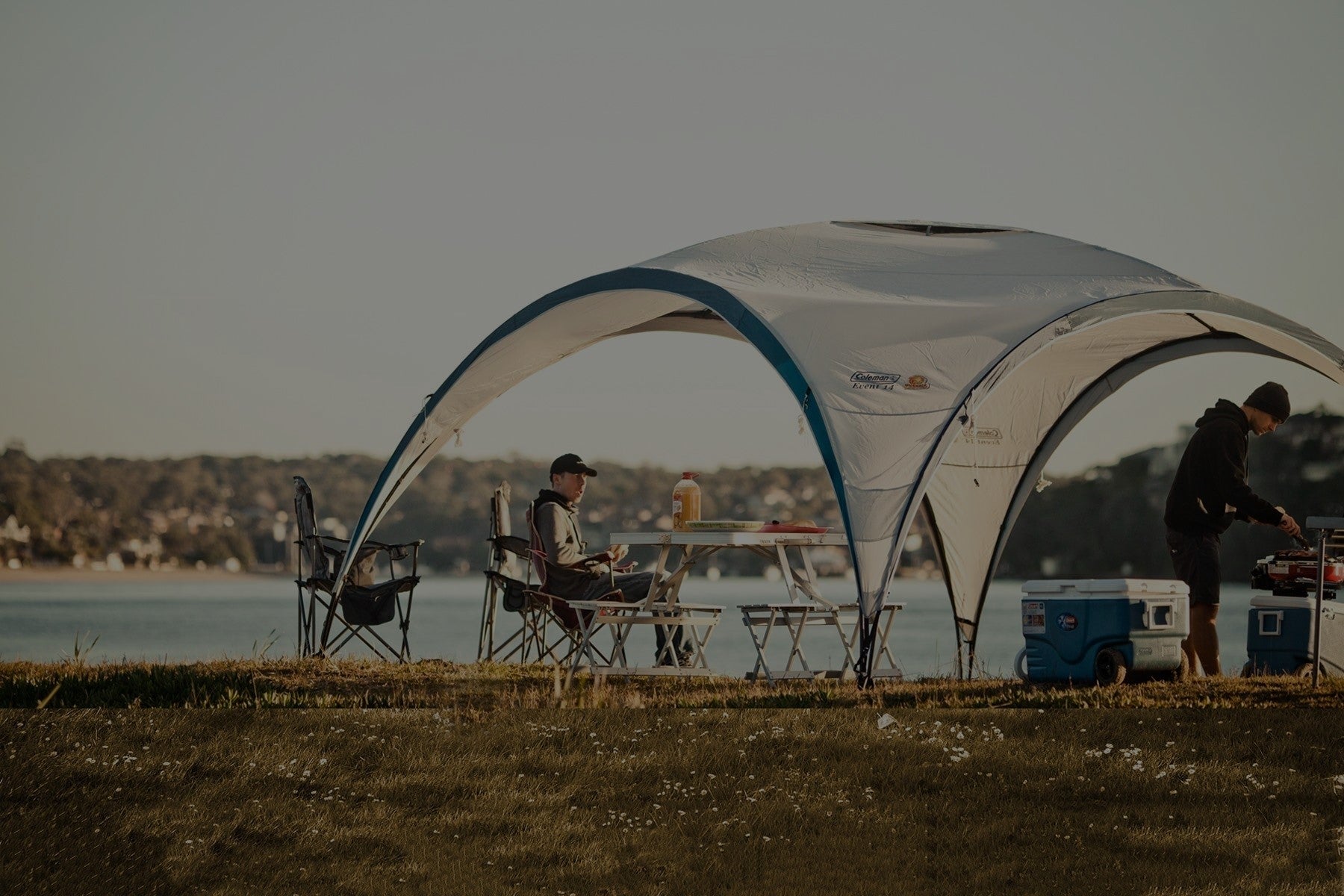 Have A Cozy and Versatile Shelter with Dwights Gazebos
On days when it's too sunny and you're out on the beach or at your favorite camping spot, a good-quality gazebo is your best bet to stay protected. You get a cool and cozy shade to relax in, that's also shielded from harsh UV rays throughout. On the other hand, if you want the comforting rays of the morning sunlight to partially fall over your head, instead of a full shade, then you would find plenty of spots to set up  a pergola in NZ.
So, while deciding on the itinerary for that upcoming trip, do take a minute to order a pop up gazebo in NZ- you'll thank yourself later! 
Why Choose Our Gazebos in New Zealand?
We bring to you a diverse and extensive range of gazebos in NZ to suit campers with varying needs. Rest assured that all the products are tested to comply with our quality standards — we strive to offer maximum durability and convenience to users.
For instance, our Coleman Gazebos come with a heavy-duty 150D cover to keep away 98% of UV rays for many trips to come. Some models are even equipped with Heat Shield Technology that can reduce the surface temperature drastically for more convenient handling. This is the perfect camping gazebo making your trip a truly memorable one.
Plus, the fast-pitch installation system of a Coleman Gazebo in NZ makes for quick set-up and dismantling. Not to forget their compact design and the integrated ABS plastic components that are sturdy enough for extensive use during a single trip. And here's the best part– our Gazebos in NZ come at quite pocket-friendly rates to suit all travelers.

Experience Outdoor Comfort and Style with a Dome Gazebo NZ
Elegant and Eye-Catching Design: The Dome Gazebo NZ stands out with its unique and stylish design. Its graceful curves and sleek lines add a touch of sophistication to any outdoor setting, making it a focal point of admiration. Impress your guests with this visually appealing gazebo that combines aesthetics with practicality.
Reliable Shelter: Don't let the weather dictate your plans. The Dome Gazebo NZ offers reliable protection against the elements. Its sturdy construction and weather-resistant materials ensure that you and your guests stay dry and comfortable, no matter the weather conditions. From sudden rain showers to intense sunlight, this gazebo has you covered.
Versatile and Spacious: Whether you're hosting a backyard party, setting up a booth at a market, or enjoying a day at the beach, the Dome Gazebo NZ offers ample space for your needs. Its generous dimensions provide room for seating, dining, or displaying your products. Embrace the versatility of this gazebo and create unforgettable outdoor experiences.
Caution: Our range of Gazebos or shelters in NZ are designed for sun protection and are more vulnerable to damage by winds compared to tents, so you need to take extra care in that regard. Remember that the guarantee we offer on all gazebo brands doesn't include wind and UV damage in its coverage and we recommend taking them down in windy conditions to avoid damage/injury. 

To know more visit our website dwights.co.nz
Gazebos are pavilion-like structures built in outdoor areas like gardens and parks to add shade to an existing camping set-up. Thus, they provide perfect shelter for such spaces and are also useful if you require privacy in an open space.
Gazebos are mainly used by campers as a shelter from UV rays and rain, while many also use these shades as a place to rest in a group or cook under. A beach gazebo in NZ is ideal for relaxing on the beach and enjoy the ocean view. Cooking under or outside a gazebo will prevent condensation inside your
Camping Tent
. On a side note, if you plan to use our gazebos in NZ for cooking purposes, make sure the area is ventilated. This will ensure the gas dissipates into the air and isn't trapped inside the tent.
Our gazebos for sale in NZ are priced quite competitively. In case you get a better price for a model in stock anywhere else in New Zealand, contact us for a price match and we'll be happy to match this as per our policy.
Know that both these types of gazebos have the same function, but their external features are different. While vertical gazebos offer more headroom consistently, dome gazebos are better suited for areas with strong winds owing to their pole structure. Anyhow, we'd always recommend disassembling your gazebo during periods of very strong winds.
We process orders for heavy duty gazebos in NZ immediately after they're placed and see to it that they're dispatched the next weekday. These gazebos are meant to withstand the test of time. You can generally expect to receive the order in one to four days. But in case of any delay, rest assured that you'll be notified about the new date of delivery.