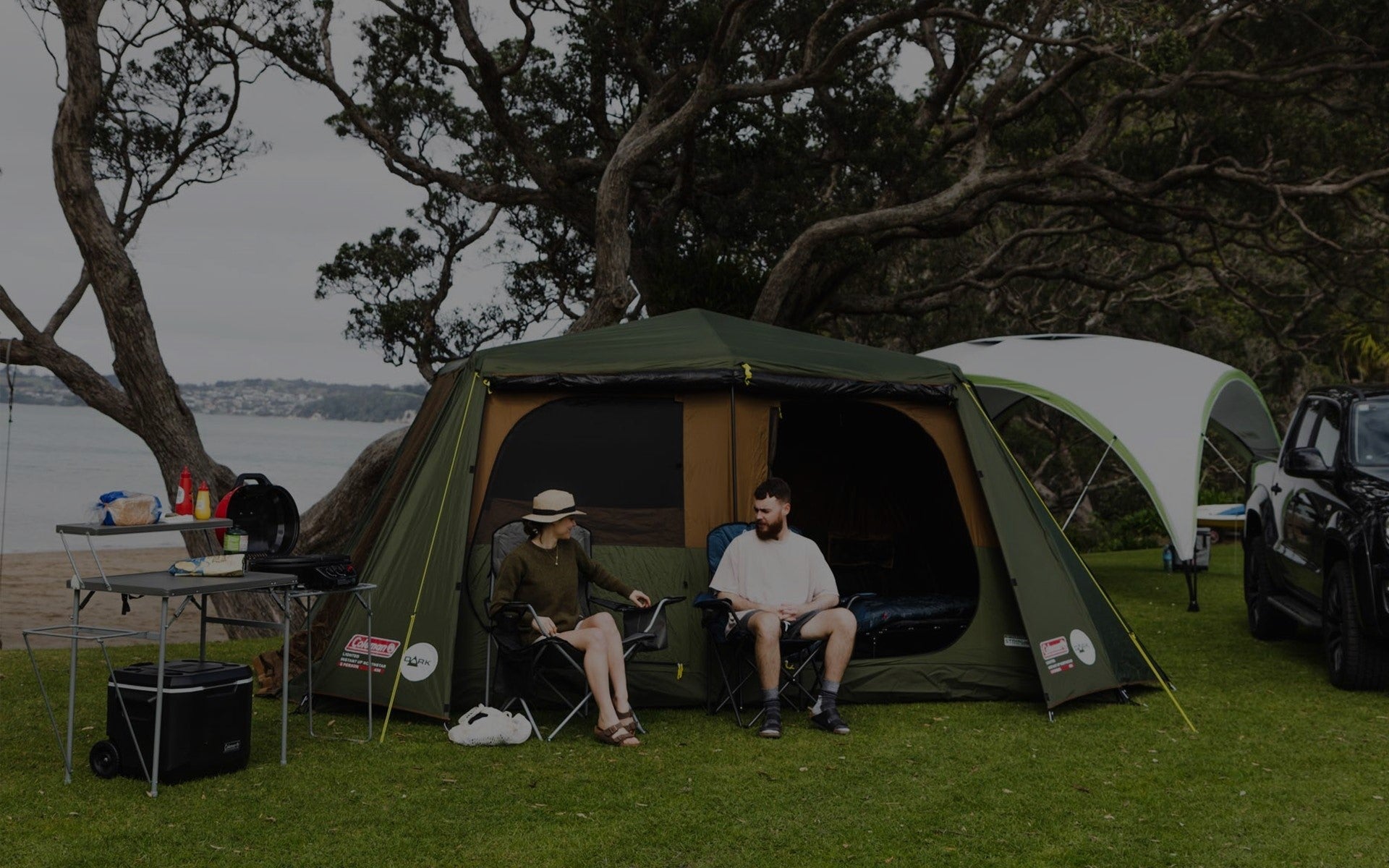 Instant Up & Pop Up Tents
Make Your Camping Trip Enjoyable With Coleman Tents!
Do tents make you tense? Don't let the prospect of pitching a tent spoil your camping adventure before it even begins. Coleman Tents have the answer; a range of Coleman Instant Up tents that will help you ease into your camping holiday without stress, arguments and tantrums.  
Why is Coleman instant up tent in NZ so popular?
These are spacious and comfortable tents that take just minutes to set up. For example, the Coleman Instant Up NorthStar 8 with LED Lighting is the perfect user-friendly large family cabin tent. A lot of that user-friendliness can be put down to set up - under three minutes thanks to the built-in HUB frame. Plus, with darkroom technology to reduce light and heat, and WeatherTec system welded floors and inverted seams keep water out, this tent is as easy to live in as it is to set up. 
For something smaller and cosier, check out the Coleman Instant Up Deluxe EVO 4. This is ideal for small families or couples and takes little time to set up - under two minutes!
We know how much camping fun can be. We want you to enjoy it too. That's why we highly recommend Coleman Instant Up tent NZ as a home away from home that you can put up in minutes. To get your camping adventure off on the right foot, and to select the best Coleman tent for your requirements, contact the team at Dwight's Outdoors. We're here to help. 
Discover the convenience and ease of setting up camp with Coleman Instant Up tents.
Designed for quick and effortless assembly, these tents make camping a breeze, so you can spend more time enjoying the great outdoors and less time fumbling with tent poles.
Our Coleman Tents NZ collection includes a variety of sizes and styles, ensuring you find the perfect fit for your camping adventures. Whether you're planning a family camping trip or a solo adventure, Coleman has the right tent to accommodate your needs.
Coleman is renowned for its commitment to quality and innovation, and our collection reflects their dedication to providing reliable and durable tents. Each tent is crafted with top-notch materials to withstand New Zealand's diverse weather conditions, providing you with a comfortable and secure shelter during your outdoor escapades.
Shop online at Dwight's Coleman Tents NZ and explore our user-friendly website that guarantees a seamless browsing experience. Our friendly team is always ready to assist you in finding the ideal Coleman tent to suit your specific requirements.
Join the community of outdoor enthusiasts who trust Coleman for their camping needs.
Invest in a Coleman Instant Up tent and experience the joy of hassle-free camping like never before.
Prepare yourself for memorable camping experiences with Coleman's premium quality tents. Dwight's Coleman Instant Up Tent NZ collection - your trusted companion for unforgettable outdoor adventures. Start your camping journey with us today!
Coleman tents are one of the most popular and trusted brands. They make affordable and quality tents that are a great combination to look ought for in the market. The Coleman instant up is the most purchased product that is loved by veteran and first-time campers.
An instant-up tent is a tent that is a solution to all the frustrations of pitching up a tent. It takes only a few minutes and sometimes even seconds to be all set for use. The Coleman instant up tent in NZ is quite popular for being easy to set up without any hassle.
The Coleman instant up tent is durable and easy to work with. Maybe you need to pay extra for these tents, but the convenience and time-effective qualities make them a great purchase for a camping endeavour.
The Coleman instant up tent in NZ is the most popular brand of instant up tents, they offer quality tents for camping activities. They are affordable and have a huge collection of tents that can be easily pitched and are convenient for any sort of camping.