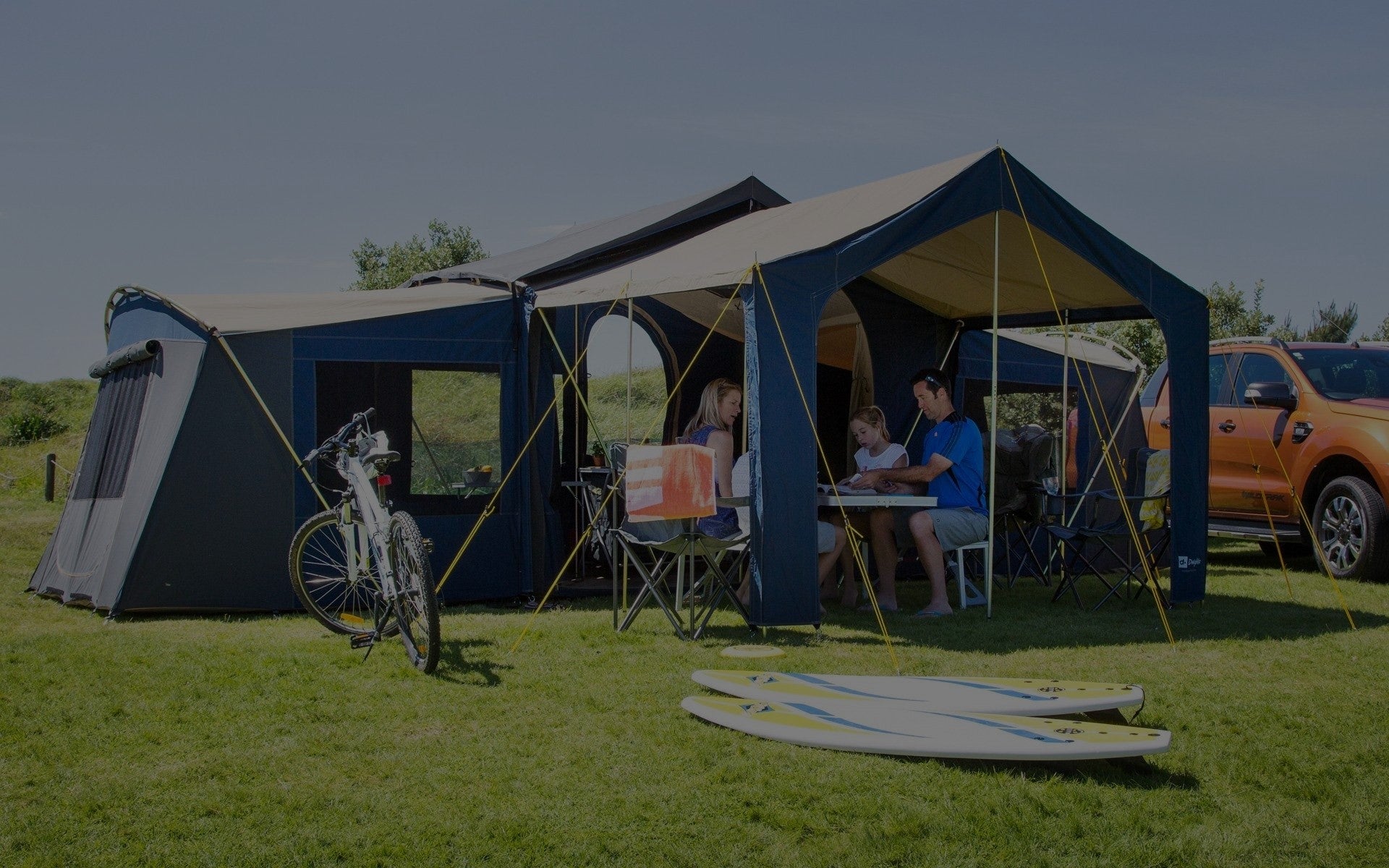 Canvas Tents in NZ: A Perfect Choice for Seasoned   Travelling 
Camping with family can be great fun and requires extensive planning with some of the most essential requirements. If you are travelling with family then you would require the best family tent in NZ. Dwights brings to you the best quality Canvas Tents in NZ for a safe and comfortable family camping experience. 
Our family tent made of canvas in NZ has been trusted and proven for decades! They are built, designed and manufactured for New Zealand conditions. We know our tents are the best on the market. Try one and see for yourself. 
Camping in New Zealand 
Camping is not a new concept in New Zealand, hunters, shepherds, and others like them indulged in open-air accommodations during their expeditions. However, recreational camping activities were popularised only in the 20th century when travelling became easier. People were capable of transporting their Canvas Tent at their convenience and reached new and unique camping grounds. 
The NZ camping holiday is something of a New Zealand tradition. Our temperate summer weather and an almost endless list of stunning outdoor destinations make camping the perfect way to spend quality time together in a little patch of paradise. That little patch of paradise is made even better with our big family Dwights great outdoor tents in NZ! We have canvas tents for sale that keep that classic Kiwi tradition alive, and we believe they're the best under the New Zealand sun. 
If you are a New Zealander or someone who is right now in the country, do not miss out on the opportunity to experience camping with family or friends. Dwights has a collection of the best family tent in NZ to shop from. We have tents with various capacities and features, and you can shop for the one that serves your requirements. 
Why are our Family Canvas Tent the best? 
Our family canvas tents have been used and trusted by Kiwis for decades. That's because they're built, designed and manufactured for New Zealand conditions. They can be opened up to let in the breeze on a hot summer's day, and zipped up when the rain falls. And they're incredibly comfortable and spacious. Separate sleeping areas, large living areas when it's time to get together, plenty of shelter from the sun, and the opportunity to add extra liveable space if you need it - the options are virtually unlimited in one of our family tent. 
The one thing all of our family tents have in common is they're made from the very best materials. From the small things like the zippers we use to the big things like heavy-duty mesh windows and doors, everything comes together in a high-quality and durable tent that will last for many golden summers. 
What are we selling?
With our years of experience in selling niche items for camping and adventure, we have crafted the best products for your camping endeavour. We understand the various requirements of our customers and what fits them right in a camping scenario. Our experience and your requirements have helped us to design the most versatile Canvas Tents in NZ. 
We are experts in the outdoor adventure category. Over the years, we listened to your requirements and successfully crafted great outdoor canvas tents that are well-suited for your camping endeavour. Dwight canvas is versatile enough and have multiple usages suited for varied camping environments. 
Our family Canvas Tents in NZ feature space for personal bedrooms and family rooms along with verandas that can be converted into sunrooms for light or to enjoy the rain from under the shelter. 
We focus on customer satisfaction and bring the Best Family Tent in NZ that can be used on different terrain for safe and comfortable family camping. Some of our popular tents are: 
Homestead Deluxe Canvas Tent: This is a Dwights' flagship model made of canvas in NZ, that has been immensely popular among family campers. It is big and packed with homely features to make the camping experience pleasant. It is a three-room tent with an adequate amount of space that also comes with a verandah for additional protection. 
Coastline canvas tent: These Canvas Tents in NZ come with two large room accommodations that could be used accordingly for sleeping and living purposes. Made with heavy-duty PVC floor and canvas roof, these tents are a great purchase for family camping adventures. 
Lakeside canvas tent: These tents are comparatively smaller in size and sport a one-bedroom setup with similar features as that of the larger canvas tents in NZ. This can be the Best Family Tent in NZ as it can easily accommodate a smaller family or couple looking for comfort and durability in their accommodation. 
Along with our popular range of tents, we also sell additional sunrooms or removable rear verandahs for more convenience and accessibility. 
Why Buy from us? 
When it comes to canvas tents in NZ, we know ours are the best on the market. They're the only way to enjoy a classic Kiwi family camping holiday where everyone is snug and safe and happy under one roof. Contact us today to discuss the type of tent you need for your outdoor family adventure.
Built to last, the canvas tent is one of the best family tents in NZ and is made of polycotton tent canvas materials. These are breathable, waterproof, insulating, and durable, which makes them a better alternative to other polyester and nylon tents. Since these tents are highly durable and resistant, they can last vastly longer than other types of tents.
Yes, absolutely! Although canvas tents in NZ are priced higher than other regular tents, their unique features quite justify their worth. Some of the key benefits of buying canvas tents include heavy water and wear resistance, long-term durability, increased internal height made possible due to the steel poles and spaciousness making them suitable for seasoned outdoor travellers.
Tents made from polycotton canvas are highly durable, waterproof, and breathable helping to provide minimum humidity inside the tent. On the other hand, regular tents made of plastics such as nylon and polyester have lower durability and wind resistance which also reflects in their great value for money. One can rest assured of comfort and safety with Dwight's great outdoors canvas tents.
To clean, a soft cloth and water are sufficient. Do not use harsh soap and cleaning detergents as they can damage the water-repellent treatment of the canvas material. Also, avoid spraying insecticides or bug repellent directly on the canvas tent.