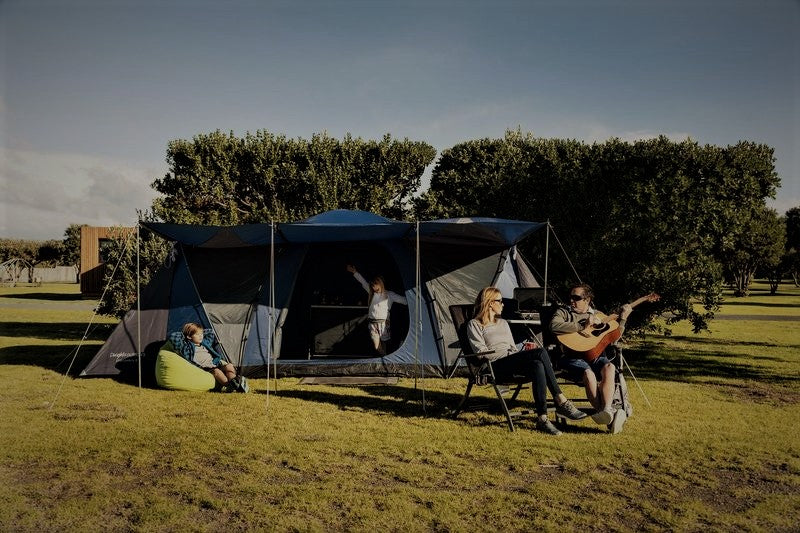 When it comes to camping supplies in Australia, one name that stands tall name over the others is OZTrail. Painstakingly developed over the past decades, OZTrail has carefully positioned itself as a leading developer and manufacturer of outdoor gear. 
New Zealand is a vast and varied country when it comes to its natural features, thus, creating the perfect gear to perform optimally in all sorts of conditions isn't easy, but we have taken it upon ourselves to make it happen. Dwights is one of the largest stockists of OZTrail in NZ.  
We carefully curate each and every product that passes through our store, something which means that we test each and every OZTrail commodity to ensure that it meets our stringent quality requirements.  
History of OZTrail. 
There was a time in history not that long ago when camping supplies were limited to old military surplus gear that was neither comfortable nor were they optimized to suit the needs and necessities of modern-day camping trips. Sensing this gap in the market, OZTrail decided to launch its own line-up to address the demands of the modern-day camper, and thus, over thirty years ago, the very first OZTrail in NZ was launched. Since then, we have managed to reach the very farthest corners of the country as well, and as the popularity of camping, hiking, and adventures keeps growing at an astonishing rate, the proliferation of OZTrail in the domestic camping scene has been pretty consistent as well.
Why choose OZTrail in NZ? 
Well, there are several reasons why you should go for OZTrail camping supplies in the country. Let us take a brief look at some of them. 
Our products are custom-designed and built to perfectly tackle the needs and necessities of the land. 
Each and every OZTrail product that we sell undergoes an extensive testing process, even if it is something like an OZTrail chair. 
Among all the other contemporaries that are available on the market, OZTrail products are some of the most cost-effective there is. 
We provide urgent and efficient customer support services, so if you ever happen to encounter any issue with our products, our expert team of customer support executives would help solve those in no time at all. 
Each and every product is constructed out of the best set of materials present. As a result, you would be getting something that would feature top-notch fit and finish levels, while being convenient to carry around and fix as well. 
Are you on a tight schedule? Well, worry not, as we provide express domestic deliveries on hundreds of products. This won't just help save time but defend you against agonizingly long waiting periods as well. 
OZTrail is known for crafting some of the best camping supplies in New Zealand, and so if you are planning on heading out into the vast wilderness this camping season, you just cannot afford to ignore our products. 
Visit Dwight's today at dwights.co.nz to explore our extensive range of Oztrail products. As trusted Oztrail stockists in New Zealand, we are committed to offering you the highest quality gear that will withstand the demands of the great outdoors. Elevate your outdoor adventures with Oztrail and trust in Dwight's as your reliable partner for all your outdoor gear needs.
When it comes to camping gear in NZ, OZTrail makes some of the very best that's available on the market. While being some of the best-constructed ones out there, the prizes are pretty moderate, and the best part is that since they are designed keeping geography in mind, they can withstand quite a bit of torture and rough-up.
Yes, OZTrail is an Australian-owned and operated company that designs each of its products with the regional camper in mind. Each of the products isn't just well-built, but the prizes that they command are pretty reasonable and pocket-friendly as well. Irrespective of the fact whether you are planning on camping as a family, a couple, or solo, OZTrail's products have got you covered.
Currently, OZTrail is owned and operated by Tradecoast Central Developer Bob Tucker. Moreover, they have their own arrangements with a wide variety of stockists and distributors, and Dwights is one of them. We sell a wide variety of camping supplies that they make, and we follow a streamlined delivery method on our end as well. Here, you will find everything from OZTrail chair to tables, flies, beds, etc., and more.
As we've already mentioned, this is an Australian-owned and operated company, and everything that bears the company's name is designed and manufactured in Eagle Farm, Australia. We understand the operational requirements of the market, and thus, we craft only some of the best there is.