9 Undeniable Benefits of Enterprise Inflatable Air Tents
9 Undeniable Benefits of Enterprise Inflatable Air Tents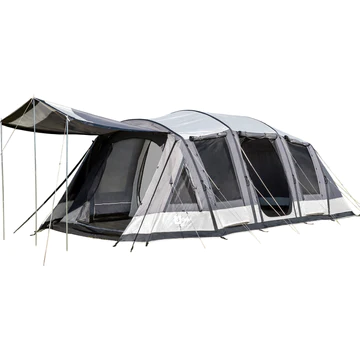 Are you looking for the right type of tent for your camping trip? Imagine a tent that offers a variety of undeniable advantages in addition to shelter, which can greatly elevate your outdoor experience. 
We're talking Enterprise Inflatable Air Tents, which are revolutionizing the field of temporary shelter options. These extraordinary inflatable tents provide many advantages, including unmatched portability, quick setup, superior versatility, and impressive cost savings. 
Knowing about these undeniable advantages is not just a game-changer; it's a strategic imperative for avid campers and event planners looking to elevate their outdoor experiences and operations.
In this article, we'll explore Enterprise Inflatable Air Tents' ten indisputable advantages, reimagining outdoor areas and challenging the status quo. Let's dive right in!
Quick and simple setup
Camping offers an opportunity to unwind, take a well-deserved break from daily life, and enjoy magnificent views. But setting up camp and getting everything just how you want is not something that most people love doing. 
With the aid of an air pump, you can set up an inflatable tent much faster than a conventional pole tent. They are, therefore, perfect for camping vacations where you want to quickly and simply set up camp, such as for parents with young children or if it's getting dark. Additionally, it makes erecting in the rain less difficult!
Lightweight and portable
Bringing lightweight, portable camping gear is essential when exploring the great outdoors. Lightweight tents are very important for travelers who travel long distances to different areas because you'll frequently be going on long journeys and carrying numerous gear items. 
Inflatable air tents are advantageous for individuals seeking a portable, lightweight camping tent that can be used anywhere. They come in various sizes to accommodate groups of five or more and can be packed into a tiny space in your car or carried along in a camping pack for any distance traveled.
Durable and strong
Although you might consider inflatable materials easily puncturable by sharp objects or uneven ground, the range of inflatable air camping tents from Dwight's Outdoors is all built from the strongest material possible. 
You can set up your inflatable air tent just a few minutes on any surface thanks to these materials, such as the heavy-duty material used in the Enterprise 1 Inflatable Air Tent, which is designed to withstand strong winds, rain, and sunlight while also being incredibly tear-proof. Additionally, air tents are significantly less likely to crack and bend than conventional pole tents, providing you with added assurance that they will endure a very long time.
Comfortable and spacious
You can select the ideal inflatable air tent for your needs from various forms and sizes. They also tend to feature more headroom and living areas than regular tents, making them more comfortable for extended camping trips. 
Inflatable air tents are more advantageous for large families and groups searching for a big room to unwind after a long day of outdoor activity. With the Enterprise 2 Inflatable Air Tent, which can hold up to eight people and has awning extensions to let you turn your campground into a home away from home, you'll have plenty of room for your family and extra camping gear. 
Inflatable poles 
The network of poles that traditional tents rely on to maintain their structural integrity can occasionally be a source of annoyance and trouble. With Enterprise Inflatable Air Tents, this concern vanishes. 
These tents do not require conventional poles because of the sturdy inflatable tubes they come with. With this innovation, there will be no more wrangling with tangled poles, worrying about bent or broken supports, or wasting time on setup. You only need to inflate it to start enjoying the outdoors without difficulty.
Straighter walls that provide increased headroom
Compared to traditional tents with sloping sides, the design of these tents allows for straighter walls. This feat of architecture results in more usable space and additional headroom. 
The straighter walls create a more open and pleasant setting, improving your whole camping experience whether standing up to change clothes or relaxing inside.
Bedroom vents ensure optimal ventilation
Camping is all about reconnecting with nature, but that shouldn't come at the expense of a good night's sleep. A relaxing and restorative night in the great outdoors is important. 
Enterprise Inflatable Air Tents have strategically positioned bedroom vents that help to achieve this by greatly improving the interior environment.
Imagine crawling into bed and being enveloped in the peace of the outdoors. These vents quietly begin to operate as you snooze, providing optimum ventilation. 
They release stale, moisture-filled air while letting fresh air into the tent. This dynamic circulation reduces condensation buildup, which is frequently problematic with traditional tents, especially in colder or more humid areas.
The outcome? You have a good night's sleep and are energized for the day's activities when you wake up. Bid adieu to those stuffy, unpleasant nights that could have you tossing and turning. 
Instead, say hello to a cozy, well-ventilated bedroom within your Enterprise Inflatable Air Tent. It's a crucial component that ensures your camping trip isn't only about the destination but also about how well you can unwind and recharge under the stars.
Good stability
Enterprise Inflatable Air Tents' cutting-edge design prioritizes sturdiness as well as convenience. These tents exhibit amazing stability even in adverse weather conditions like heavy winds. 
The uniformly distributed forces of the inflatable structure reduce the likelihood of them collapsing or swaying in the wind. This enables you to venture out into nature with confidence and without concern for the stability of your shelter.
Water resistance
Rain is a major worry when undertaking outdoor pursuits because the weather is frequently unpredictable. Fortunately, these tents are made to withstand it. 
Their superior components and careful engineering are their secrets. A watertight fortress is built carefully, considering every seam, fabric selection, and detail. 
Your Enterprise Inflatable Air Tent is your steadfast barrier against the elements when Mother Nature tests your camping prowess and it starts to rain. 
No matter how bad the weather gets, you and your gear are safe, warm, and comfortable inside. So enjoy the great outdoors and all its splendor without getting wet. Your tent protects you practically from the unpredictable whims of the rain.
Novelty "coolness" factor
Enterprise Inflatable Air Tents give a sense of novelty and "coolness" to your outdoor experiences and their practical advantages. They frequently attract admiring glances from other campers and event attendees due to their distinctive design and quick inflating process. 
Making a fashionable and distinctive statement is as important as being comfortable and convenient. Whether hosting a glamping event or setting up camp at a music festival, these tents give a touch of contemporary sophistication that makes you stand out. Take advantage of the cool element and add modern flair to your outdoor experience.
No assembling or disassembling knowledge required
Imagine this: When you get to your camping or event location, you don't have to struggle with a maze of tent poles and a confusing instruction manual; instead, you can easily inflate your Enterprise Inflatable Air Tent. 
The tedious installation and disassembly process required by conventional tents is not necessary for this modern marvel. You may quickly enjoy your shelter with a few pumps or the click of a button. 
A stress-free setup and takedown will allow you to concentrate on what matters—making the most of your outdoor experience. Say goodbye to the frustration of putting conventional tents together, and welcome to stress-free setup and takedown.
Takeaway: Dwight's Outdoors air tents are suitable for any occasion
One of the best things about air tents is their adaptability and how many different environments they can be utilized in. You can set up your air tent in addition to camping at events, the beach, on hikes, and other locations. 
At Dwight's Outdoors, we are confident that one of our many inflatable air tents will meet your needs, no matter the camping situation or the number of campers.
Come check out our assortment of camping tents and other supplies and accessories.
---