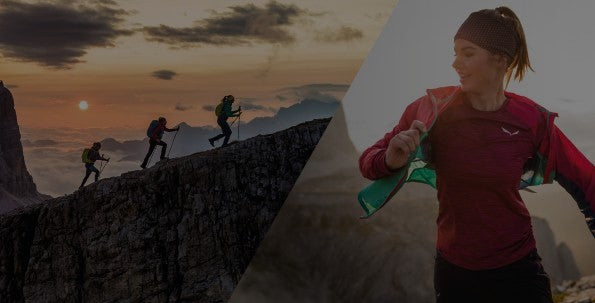 Salewa Hiking Boots & Hiking Shoes
Salewa Boots in NZ: Creating Shoes for the Best Hiking Experience
Salewa is fast becoming a household brand for top quality hiking boots & shoes in NZ. Founded 1935 in Munich, they were created with the vision to provide the most comfortable and durable footwear range in the world. Fast forward to today and the Mountain Trainer range of Salewa boots in NZ are some of our best selling boots and highly respected by all.
Benefits Of Wearing Salewa in NZ
Comfortability:

Salewa shoes offer incredible comfort and stability while hiking for long days in tough terrains with heavy backpacks. In fact, it's one of the most balanced boots with well-cushioned midsoles to provide support at the heel, sole, and instep.
Flexibility:

Salewa boots are genuinely grippy boots that come with aggressive tread patterns and shoe-like rubber toe caps in the front. These features offer great flexibility at the ankle even on tricky terrain.
Durability:

Despite being hefty, Salewa boots offer a much lighter feel while hiking on rough and uneven terrains. The stiffness and durability of these hiking shoes make them perfect for hiking on technical grounds with a heavy pack!
Our Recommendations for Lightweight Mountaineering Boots in New Zealand
Do you need a lightweight mountaineering boot? We suggest the Rapace. Doing well maintained & pathed walks and rather something a bit lighter and more flexible? Check out the Mountain Trainer Mid Lite. If you have questions or would like to enquire about a model you don't see on our site, get in contact and we'll see if we can supply.
Of late, salewa boots in nz have become some of the most preferred hiking shoes for serious hikers. The hiking boots from this brand are made keeping in mind the hikers and backpackers who enjoy rock scrambling and trekking the mountains. The "Mountain trainer" edition of Salewa boots is quite popular among hikers.
Salewa makes some of the most sturdy and durable boots and is trusted among hikers across New Zealand. During its origin, Salewa are focused on producing quality footwear for outdoor activities.
The salewa boots in nz can be brought from Dwights Outdoors. They have a huge collection of hiking accessories. You can look at their Salewa boots collection available in different models and sizes that are perfect for hiking and other adventurous activities.
The salewa boots in nz run true to their size. You can purchase the regular size that you prefer for your footwear as they measure the same inches. Moreover, the quality, comfort, flexibility, and supportive quality of Salewa boots are what make them a popular choice among hikers. You do not need to go for a size below or above while purchasing these boots.
The salewa boots in nz offer great stability, protection and support during an outdoor adventurous engagement. Their approach shoe-like lacing system makes them a better fit that can be customized as per requirement. They have a premium build quality and durability which is no doubt a value-for-money product.