How to Choose Inflatable Air Tents: Top Tips & Tricks
How to Choose Inflatable Air Tents: Top Tips & Tricks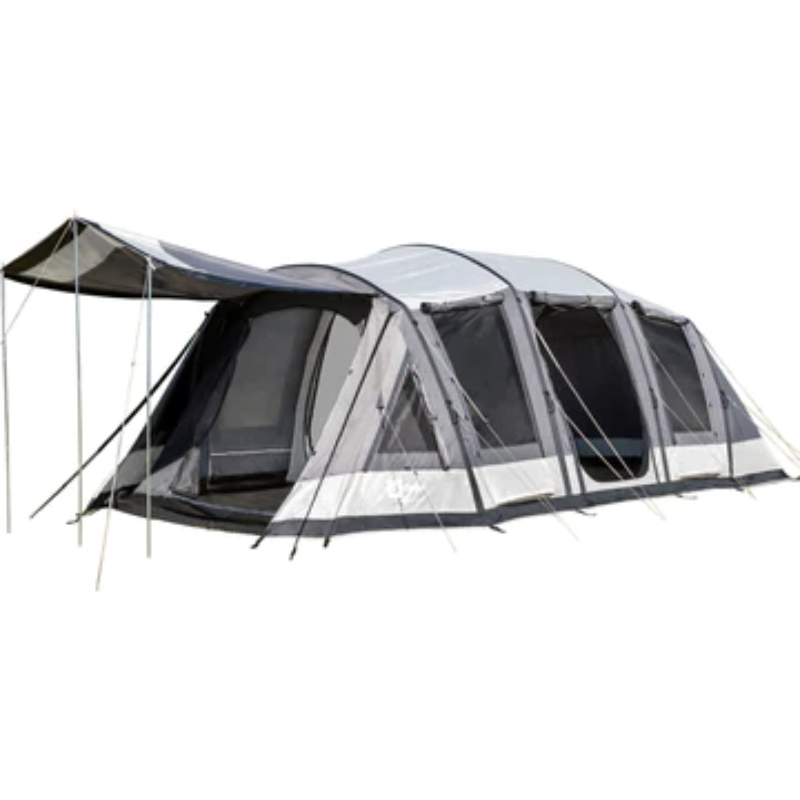 Inflatable air tents are much easier and faster to set up than tents with poles. They have other names, including inflatable bubble tents, air pitch tents, and air beams tents. 
With an inflatable tent, you dive straight into the fun and adventure without delay and expended effort. Just like traditional tents, air tents will work just fine. 
Since coming to the fore in 2011, thanks to Vango, the inflatable tents trend has continued to grow in popularity due to their exceptional convenience. You can literally set up most air tents in less than five minutes max. 
If you're wondering if you should get one and what to look out for before making a choice, you're in the right place. 
Some factors to consider when buying an inflatable tent include size and capacity, privacy needs, quality and durability, water resistance, additional features, and your budget range. 
In this article, we share top tips to consider when buying an inflatable tent to ensure you don't waste money and regret your purchase. We also share why air tents are worth all the rage. 
Tips for choosing the best inflatable air tents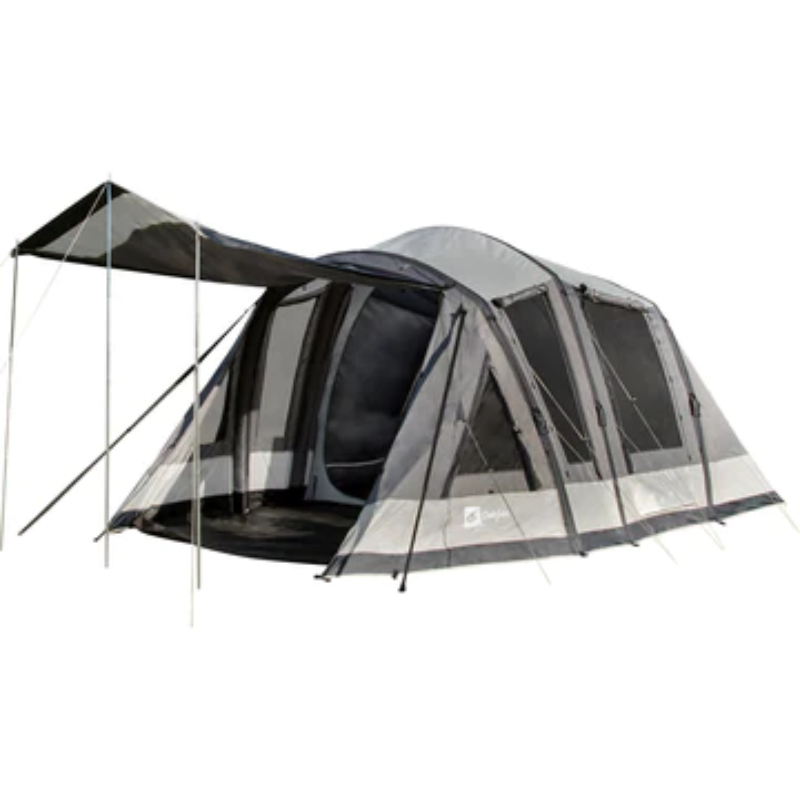 When choosing the best inflatable tent for your needs, remember it's a personal choice. What worked for your friend or buying a tent you saw on social media may not work for you. Following the tips below will help streamline your research process. 
Consider the size and capacity of the air tent
Size is one of the most important factors when buying an inflatable camping tent. Size primarily refers to the floor area, height of the tent, and the number of rooms. 
In this sense, buying a tent that accommodates only two people for a family camping trip involving five members isn't prudent. Even some camping tents earmarked for two people may eventually not be adequate after each person's gear and luggage are added to the space. 
In essence, you should consider how many people are coming and what other purposes the tent may serve. If it's just you on the camping trip and you'll be backpacking a long distance, a much lighter tent makes more sense for your needs. 
Size could also refer to the total weight of the tent and how much space it occupies when it's not inflated. This is especially important when considering your logistics. 
You must also review how the tent will fit into your car space. Remember, the tent comes with a pump as well. 
Examine the tent's weather resistance
Every high-quality inflatable tent is made with excellent fabrics that protect you from harsh weather conditions, come rain, come shine. 
One of the key features to look out for when shopping for an inflatable tent is the hydrostatic head value. This value represents the waterproof rating of the tent. 
The higher the number, the better you're protected during heavy rainfalls and storms. Generally, a fabric must have at least a hydrostatic head of 1,000mm to be considered waterproof. The best inflatable tents have a rating well above 3,000mm or higher. 
Additionally, look out for the tent's seams. Ensure that they are sealed. A fully seam-sealed tent is more watertight than other seam types and will more likely protect you during stormy rains. Think of this as the tent's 2-factor authentication. 
All inflatable tents produced by Dwight Outdoors have a rating of atleast 5,000mm and are fully seam-sealed. 
Consider the quality and durability of the material it's made of
Beyond being watertight, the choice of fabric plays other critical roles. When researching inflatable camping tents, you want to look out for terms like UV treated and fire retardant treatment in the product's description and specification. 
A UV-treated tent has two important benefits. The first benefit is that it ensures dangerous UV rays do not seep through the fabric to harm you. 
The second benefit is that it prolongs the life of your tent. Otherwise, ultraviolet rays will wreak havoc on your tent's tensile strength. Before you know it, the tent is not holding as strong as usual and becomes patchy till you start seeing big tears. 
There's a lot of fire in and around campgrounds, so it makes sense that tents are fire-resistant. It not only protects the tent but also protects you in case there's any mishap in the outer or inner tent. 
Types of inflatable tent materials
When considering tents, you'll likely come across three options: polyester, nylon, or PVC. Now, each of these materials has its pros and cons. 
For example, PVC is the cheapest and requires less maintenance. However, tents made with PVC easily crack from exposure to UV light. Nylon is more lightweight than the others but less strong and durable than polyester.  
Polyester offers the best blend of characteristics for air beam tents. It's durable and strong and more UV resistant than the other materials. They are perfect for camping outdoors because they can withstand wear and tear quite well. 
Polyester also dries quickly, which comes in handy after a heavy downpour. Most inflatable tents are made with polyester for these reasons. 
In essence, look out for air pitch tents made with polyester and UV and fire retardant treated. 
Reflect on your privacy needs
Many people do not consider privacy when researching inflatable tents, but the reality haunts them later. A tent may have enough space to accommodate four people, but the primary question is: how many private rooms do you have?
Many tents, like the Enterprise 1 Inflatable Air Tent, come with removable bedroom dividers. Aside from offering you much-needed privacy, it also offers you the flexibility to play with the dimensions and purpose of a room. 
You can set up the tent as one big space for group activities during the day and as separate private rooms at night.  
Examine additional features
Additional features are general nice-to-haves that make your experience better. 
Extra features like an out-of-the-box air pump, elements to create a front veranda, good headroom, see-um mesh to keep bugs away and ensure there's proper ventilation, and an extended warranty period for the tent. 
These features can be the difference between an ordinary and memorable camp trip. 
Know your budget range
The cost of inflatable tents with all the bells and whistles above will most likely be more expensive than conventional tents. If you're going to splurge on a new tent, ensure it's on a quality product. 
You can always get good value for money when you take into consideration the factors above. The Enterprise Inflatable Shelter is an example of a tent with a customer-friendly price-to-value ratio.
Are inflatable air tents worth buying?
Inflatable air tents are worth buying alone for their undeniable convenience. But beyond the speed of setting up and taking down, inflatable tents are easier to patch, more portable, weigh less, and offer more space to operate.  
How much wind can an inflatable air tent withstand?
How much wind an air tent can withstand varies from product to product. It'll depend on the materials used and the tent design. For example, inflatable dome tents can withstand extreme wind better than most designs. 
Some well-designed inflatable air tents can withstand wind speeds up to 60km/hr to 90km/hr, especially when properly tethered to the ground with guy ropes and pegs. 
One interesting fact about inflatable air tents is they're more capable of surviving extreme wind speeds than conventional tents. 
During very windy weather, poles in conventional tents are likely to snap under powerful forces. The reverse is the case with inflatable tents because the air beams are more flexible. 
As such, the air beams in air pitch tents are more likely to remain in place when the extreme weather subsides. 
Why should I buy an inflatable tent instead of a traditional tent?
There are many reasons you should purchase an inflatable tent over a traditional tent, including:
Inflatable tent is easier to pitch
You can set up and take down inflatable tents in double-quick time. More importantly, you can do this all by yourself. 
The poles are incorporated into the tent itself, so you don't need to deal with long poles all by yourself, unlike with traditional tents you must contend with unwieldy poles and threading them into their appropriate locations. 
Inflatable tent is easier to patch
No matter how careful you are, you'll always have the occasional tear. In inflatable tents, the area around the air beam expansions is a common location for tears. 
The good news is that you can easily access a repair kit to help you fix these tears without needing the help of a professional. 
Inflatable tents weigh less and are more portable
Because you don't have to deal with many poles, inflatable tents weigh less than conventional tents. Hence, they are a more portable option for trekkers and hikers. 
Inflatable tents offer more space than traditional tents
Again, the lack of traditional poles provides more interior space to play with inside inflatable tents. You can use the extra space as you choose. It's extra helpful if the tent has removable bedroom dividers for more flexible usage. 
Takeaway: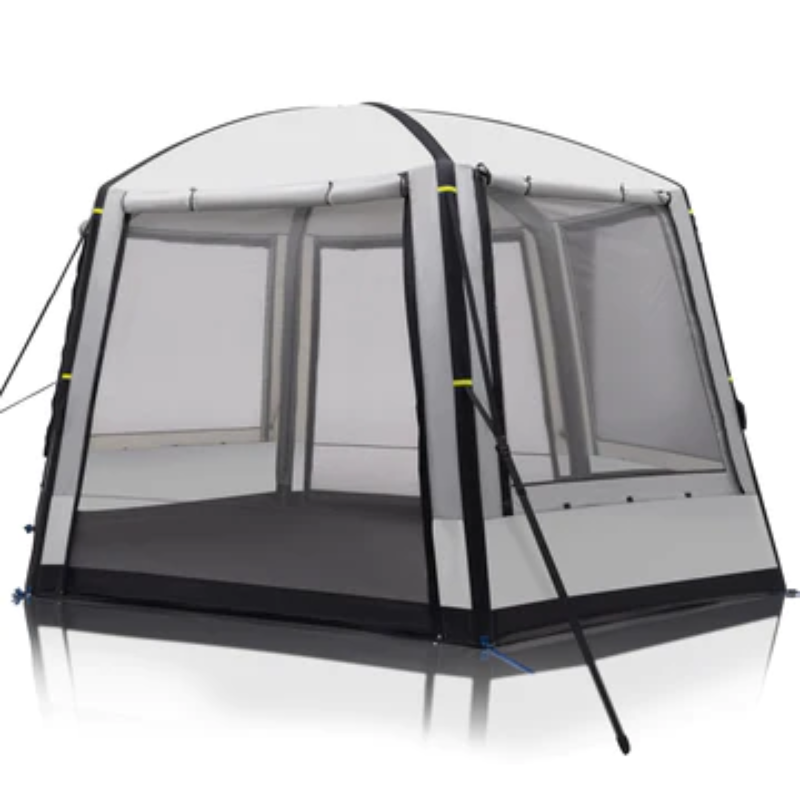 Inflatable tents have many advantages to offer the average adventure enthusiast. They're more portable, easier to set up, and lighter to carry. 
You can only enjoy these advantages if you consider the right factors when making a purchase. Ensure your preferences and needs, like privacy, size, and capacity, take the driving seat in your buying process. 
Are you looking for the perfect, spacious, and luxurious inflatable tent for camping? Dwight Outdoors produces modern and high-quality inflatable tents with well-tested materials. Check out our inflatable tents collection here. 
---